500 young Spaniards a year will soon be able to take advantage of Australia's Work and Holiday visa scheme to work in the Asia–Pacific nation, under a new agreement signed by Spain's foreign minister in the Australian capitial of Canberra.

The agreement will mean Spaniards aged 18 to 31 will be able to live, work and study in Australia for 12 months.
The visa allows holders to work full time as long as they don't clock up more than six months with a single employer. They can also study for up to four months in the same course.
Under the visa conditions, holders can also leave the country and return on multiple occasions.
Australians will also have the same the privileges under the agreement signed by Spain's Foreign Minister, El Mundo newspaper reported.
"It's a first step. It's only 500 visas, which seem too few to me and I hope the number will increase soon," said Spanish Foreign Minister Manuel José García-Margalllo after signing the agreement in Canberra.
The visa scheme will be up and running within 12 to 18 months although provisional arrangements could be in place by as early as the end of the year, Spain's ambassador to Australia Enrique Viguera told El Mundo.
With youth unemployment in Spain currently running at over 50 percent — against 6.1 percent in Australia — the news is likely to be well received.
However, there are conditions. The visa is not renewable and applicants are expected to arrive with A$5,000 (around €3,500).
They should also have "functional" English and meet educational requirements. These requirements for Spaniards are yet to be published, but El Mundo reports that students should have completed at least two years of a tertiary qualification.
Visa numbers are limited as well, with many of the first batch expected to be snapped up by Spanish students currently in Australia.
Spain already has similar arrangement in place with Canada (1,000 visas per year) and New Zealand (200 visas a year).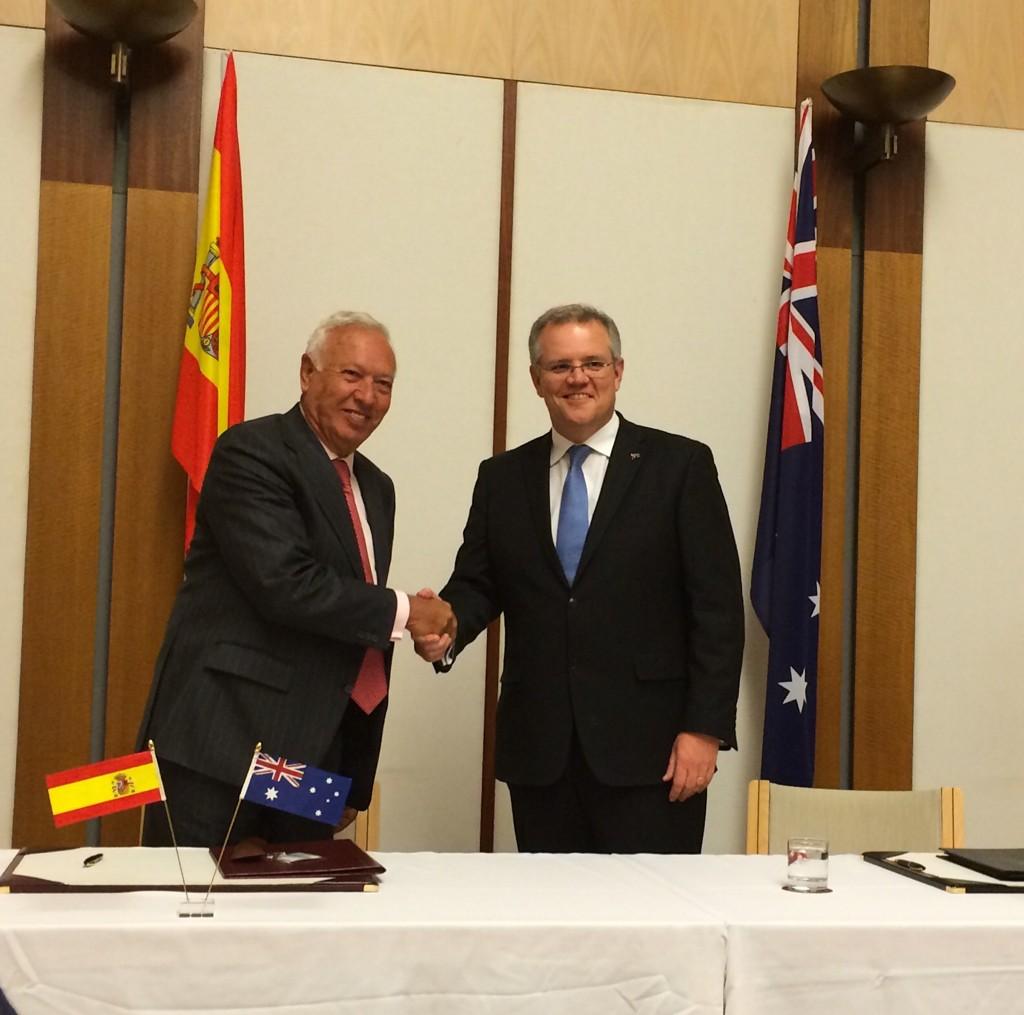 Scott Morrisson, Australian Minister for Immigration and Border Protection with José Manuel García-Margallo, Spanish Minister for Foreign Affairs after signing the agreement in the Parliament House.
Source: www.thelocal.es